Many of us eat everyday without thinking about it, but it isn't that easy for some of our kids. Successful feeding requires the coordination of 26 muscles and six major nerves to move food safely and efficiently around the mouth, down the throat, and into the digestive system (feeding matters.org). In other words, there are a lot of places where this complex process can break down. To make matters more complicated for our kids, food allergies, sensory processing challenges, and negative emotions can also play a role in feeding disorders.
So, what exactly is a feeding disorder?
Pediatric feeding disorder is defined as impaired oral intake that is not age-appropriate and is associated with medical, nutritional, feeding skill, and/or psychosocial dysfunction (Delaney article).
This means that pediatric feeding disorders are the result of one or a combination of the following:
Medical concerns like reflux, food allergies, and dysphagia (a swallowing disorder)
Feeding skill deficits like poor coordination of oral structures like the tongue and lips and difficulty tolerating sensory experiences around food
Nutritional deficiencies
Psycho-social concerns related to challenging mealtime behaviors like crying and food refusal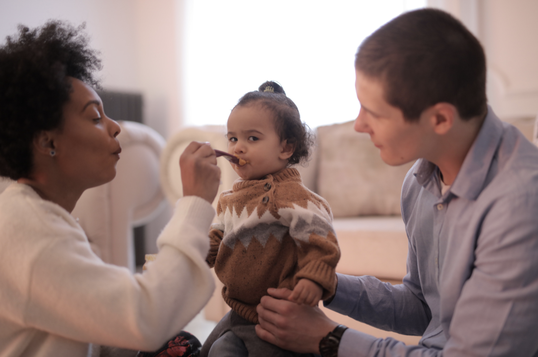 It is estimated that at least 2.3 million American children under the age of 5 are affected by PFD each year (www.feedingmatters.org). Children with developmental disabilities are at an even higher risk of PFD. For instance, children with ASD are 5 times more likely to experience feeding difficulty than children who are not on the spectrum (ASHA pediatric dysphagia). In fact, feeding difficulties are so prevalent among children with developmental disabilities, that parental reports of feeding challenges are some of the first indicators of many developmental diagnoses.
Diagnosis and Treatment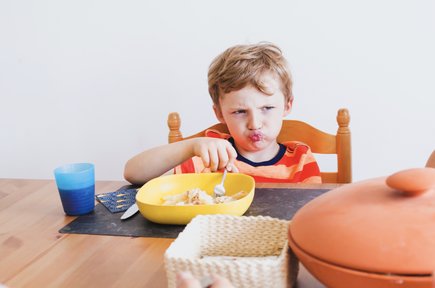 Feeding disorders can be tricky to identify and even harder to treat because children with feeding difficulties are an incredibly diverse group. Some children are unable to eat safely by mouth and require alternative feeding through a tube placed in the stomach. Others have a significant medical condition like gastroesophageal reflux or food allergies that make eating painful and scary. Still others, particularly those on the autism spectrum, may have sensory aversions and sensitivities that make some textures and even entire food groups dysregulating and stressful to accept. 
Due to the complex nature of PFD, a variety of different professionals can be involved in diagnosis and treatment including doctors, psychologists, speech language pathologists, occupational therapists, dieticians, and more. In the past, many professionals defined and treated pediatric feeding disorders through the lens of their discipline in isolation, meaning that they didn't routinely consider the holistic nature of feeding disorders and involve other related professionals. Fortunately, professionals well-trained in the diagnosis and treatment of feeding disorders now recognize that an interdisciplinary team-based approach is critical to feeding success.
How We Can Help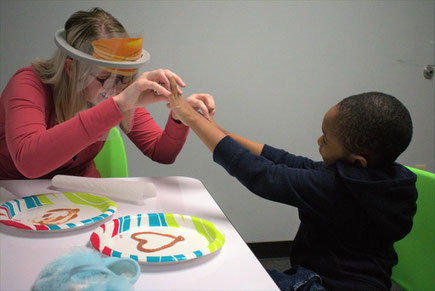 At Kid Connections Therapy, we prioritize connection and collaboration with all members of a child's feeding team, including caregivers, pediatricians, dentists, dieticians, and more. In our feeding therapy, we implement a relationships-based approach that reduces anxiety, builds functional skills, and increases positive associations with food and mealtimes. Trust between the child, caregivers, and the therapist are the foundation of the work that we do. 
In addition to teaching children the oral motor skills necessary for successful eating, we target a variety of other feeding skills including:
Exploration of the sensory properties of food
Development of vocabulary surrounding food
Strategies for appropriately removing food from the mouth
Social communication at mealtimes
If you have concerns about your child's feeding, give us a call at 410-274-0041 today.
Caroline Braun was a speech-language pathologist at Kid Connections Therapy in Severna Park, Maryland.