I have found the single most important thing for progress in therapy, and perhaps in life in general, is genuine connection. What I didn't realize was that genuine connection was possible virtually. 
People ask me all the time how I do what I do…"how are the kids coping?" "How do they do with the online format?" "How are you able to connect with them?" 
And the truth is, the answer to those questions are...the kids are resilient. My connection with children I was already working with continues to grow, and the relationships I am building with kids I have only met online...are strong. Believe me, I was surprised too.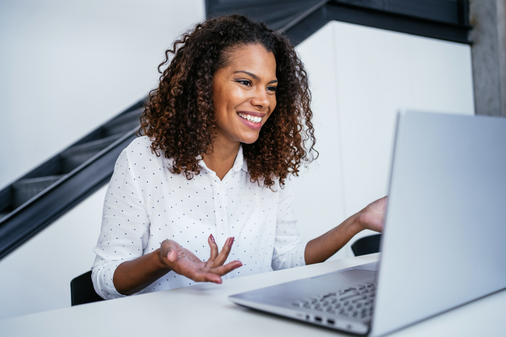 The thing is, when I decided that I wanted to move across the county, I also had to decide if I wanted to leave my job. Not only was this challenging because I love my job, but more so because I love the people I work with, especially my clients and their families. 
How could I follow my heart, and break it all at the same time? How could I move so far away and maintain the relationships I had built? Well, here I am on the other side of the country...and I continue to be greeted each and every day by smiling faces. Just this morning one of my sassiest clients started out our session by saying, "Erica?...I love you."
Seriously, you can't make this up.
In this way, I was able to follow my dreams and stay true to myself, and I am a better therapist for it. Teletherapy at Kid Connections Therapy has gifted me with this opportunity. And I am confident that the quality of services I provide has not been sacrificed in the slightest. In fact, I think my services have been enhanced. And I'll tell you why…
Some of my most cherished clients have parents or family members that are high-risk, or are immunocompromised themselves. For these families, at times, teletherapy is the most outside human connection they have. And I am more than happy to provide that genuine loving connection from an informed clinical and helpful perspective.
Parent coaching has rapidly and wildly increased. My background and expertise largely lies in early intervention and a parent coaching model. I love giving parents tools to implement at home. However, sometimes those strategies and skills don't always transfer from the clinic to home so smoothly. I have never felt that I have made larger strides in parent education and early intervention until implementing a teletherapy model. I now have the ability to virtually step into a family's home, and hand them the tools their child needs to grow. These skills and strategies are able to be implemented throughout the child's daily life, instead of just once a week in a sterile environment. This is not only effective, it is empowering. And one thing I have learned is an empowered parent makes for an empowered child.
The services that Kid Connections Therapy can provide have become even more individualized and tailored to each child and family. Because we have in person and teletherapy services available, and always implement a team-based approach, we are able to make appropriate recommendations based on a child's age, skill level, and personality. I have had children that are more available in the home setting due to hesitancy and temperament that have progressed to in person services because they are ready now. I have had clients transition to teletherapy because they are ready to begin generalizing the skills they have learned in the clinic to home. I have had clients that receive feeding therapy at their own kitchen table, and coached parents on implementing strategies for engagement and play in their backyard. We have the ability, flexibility, and compassion to offer hybrid approaches in which children with multiple needs are able to work in person when appropriate, and online when appropriate. And sometimes a hybrid approach is the most effective option.
In this way, Kid Connections Therapy is able to give kids what they need from who they need it most, and that is a beautiful connection. 
Erica Eckel was a speech-language pathologist at Kid Connections Therapy in Severna Park, Maryland.